Office Cleaning Services
If you're seeking office cleaning service in the Panama City area, you've come to the right place. Spark Cleaning is the local area's choice for high-quality office cleaning workmanship. We'll get your office looking its best so that you, your employees, and your clients will enjoy being in a clean, healthy, and attractive work environment. Plus, we offer some of the best customer service around. When you work with Spark Cleaning, you can count on receiving business cleaning services that are knowledgeable, skilled, thorough, and above all, professional. Schedule your commercial cleaning service by calling today!
The benefits of having your space cleaned regularly by a business cleaning service include:
Improved worker morale
Higher productivity
A healthier environment
Fewer personnel sick days
Positive customer impressions
Increased return business
And more!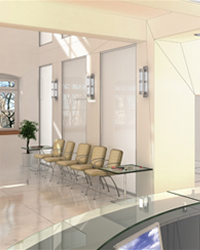 Keeping your office spick-and-span shows that you care about the face your business presents to its customers and prospective customers. Working with a business cleaning service also shows that you care about your employees' health, comfort, and safety. Bring in Spark Cleaning to dust, mop, vacuum, clean the bathroom, and take out the trash, and see the difference proper office cleaning can make.
Spark Cleaning is fully licensed, bonded, and insured for business cleaning services. That means you can trust us to completely clean your space, taking all necessary precautions to protect your property during the process. As a member of the International Janitorial Association, we strive to stay aware of how we might improve our commercial cleaning services to better meet your needs. We're also proud to have an A rating from the Better Business Bureau for commercial cleaning, reflecting our ongoing commitment to customer satisfaction with our cleaning services for business spaces.
20 Years of Office Cleaning Service Experience

Our cleaning services business was founded in 2007, but our team has 20 total years of experience in the industry. In that time, we've learned how to efficiently and effectively clean everything from one-room offices to large office complexes. We'll tailor our commercial cleaning efforts to your specific needs. For instance, we can work after hours or before your office opens to ensure a clean, sanitized space each morning. We'll bring all of our own supplies, and we'll send a commercial cleaning service team that's just the right size for your space's particular needs. To learn more, book your office cleaning services, and get a free cost estimate, call or e-mail Spark Cleaning now! 
Business Cleaning Services
Building Maintenance
Maintenance Services
Office Cleaning Contractors
Facility Maintenance